Company Tear Sheet
Corporate Profile
Since 1985, PTC has been 100% committed to supporting the needs of leading manufacturing companies worldwide. As one of the world's largest and fastest-growing technology companies, PTC delivers technology solutions that transform the way companies create and service their products.
Our solutions let you aggregate, analyze, and deploy product information to drive the strategy and dynamic decision-making processes on which your success depends. Our solutions help you optimize the activities within individual functions of your organization, and aligned across your entire enterprise: from engineering to supply chain and manufacturing, and sales and service.
Today, PTC has more than 6,000 employees and serves more than 28,000 customers. We are headquartered in Needham, Massachusetts and trade on the Nasdaq Stock Market under the symbol PTC.
Stock Chart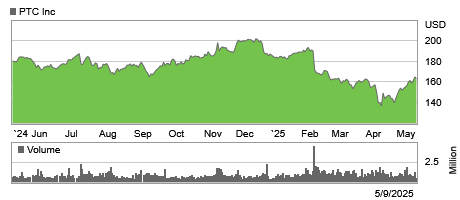 Data Provided by Refinitiv. Minimum 15 minutes delayed.
Stock Quote
Change
Volume
52 Week High
52 Week Low